India PM Manmohan Singh arrives in Iran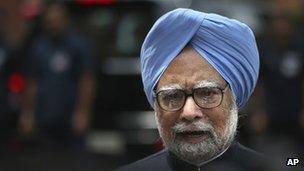 Indian Prime Minister Manmohan Singh has arrived in Tehran to attend this year's meeting of the 120-nation Non-Aligned Movement (NAM).
Mr Singh is expected to hold talks with Iranian leaders and Pakistan President Asif Ali Zardari on the sidelines of the meeting, reports say.
Mr Singh's visit to Iran is the first by an Indian PM in over a decade.
The NAM has 120 members, comprising nations said to be unaligned with the major world powers.
The grouping aims to represent the political, economic and cultural interests of the developing world.
Correspondents say Mr Singh's planned meetings with Iranian leaders to review bilateral relations assume significance as they take place at a time when the US has been urging India to reduce ties with Iran.
In June, the US exempted India and six other countries from economic sanctions in return for cutting imports of Iranian oil.
In May, India said it would cut imports of Iranian oil by 11% in the current financial year - India is one of the biggest importers of Iranian oil in Asia.
Mr Singh said the NAM should help in tackling key political and economic challenges, including the situation in Syria and the global economic slowdown.
"I will stress that our movement should provide a strong political impetus to the ongoing efforts to reform and democratise global governance structures, which are critical to tackle these challenges more effectively," he said.