Bangalore stinks as garbage piles up in Indian city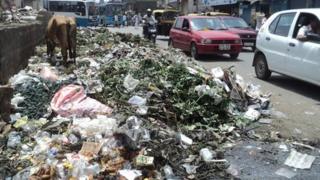 Piles of garbage are collecting in India's IT capital Bangalore as nearby villagers refuse to allow their land to be used as a dumping ground.
Officials say clearing 4.5 million kg (9.9 million lb) of daily waste has become a big challenge.
The garbage is raising a stink in the city and there is growing anger among its nine million residents.
The city is home to hundreds of multinational software firms like IBM, Microsoft and Hewlett Packard.
Bangalore's Mayor Venkatesh Murthy told the BBC that the mess was created after angry villagers closed two landfills over health concerns.
Hundreds of residents of Mandur village blocked trucks carrying waste from Bangalore, saying they would not allow dumping in their backyard.
"Our health is as important as those of the city people. They cannot take us for granted and dump waste here. We will not allow this dumping to continue," Muniraju, a local village council member, said.
Earlier, the state pollution control board ordered the closure of a dump yard at Mavalipura on the outskirts of Bangalore as waste was not being disposed of scientifically.
The city is known as India's "Silicon Valley" but in recent years, its image has been dented by poor roads, traffic snarls and power outages and it has taken a further beating with the garbage crisis.
"I do admit that the image of Bangalore has been affected. It has brought us a bad name. But we are doing our best to clear the garbage," Mr Murthy said.
Officials are now in search of alternative dumping yards to clear the smelly waste.
Mayor Murthy said he hoped the situation would be back to normal "in the next three to four days".