India and Pakistan leaders due to meet in Tehran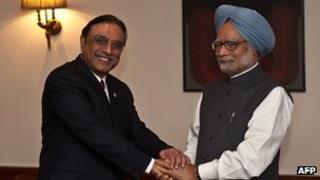 Indian PM Manmohan Singh is due to meet Pakistani President Asif Ali Zardari on the sidelines of the Non-Aligned Movement (Nam) meeting in Tehran.
The leaders, who last met in India in April, are expected to hold talks to bolster a fragile peace process.
Relations between the two countries have been gradually improving.
Peace talks resumed last year after they were broken off following the 2008 Mumbai attacks. India blamed the attacks on Pakistan-based militants.
The Non-Aligned Movement (Nam) has 120 members. It was established in 1961 by countries that wanted to counterbalance the dominance of the US and Soviet Union during the Cold War.
It meets once every three years but its relevance on the international stage has declined significantly since the end of the Cold War and the fall of the Soviet Union.
Mr Singh's meeting with Mr Zardari in Tehran comes a day after India's Supreme Court upheld the death sentence of Pakistani national Mohammad Qasab, the sole surviving gunman of the 2008 attacks on Mumbai.
"I am sure Pakistan will not fail to take note of it," Indian Foreign Minister SM Krishna said on Wednesday.
In August India announced that it will allow investment from Pakistan in what is seen as a boost for bilateral economic ties.
India also looks set to resume bilateral cricketing ties with Pakistan after a gap of several years, with plans for Pakistani cricketers to tour India in December.
Earlier this month India said it would give Pakistan evidence for its claims that threatening messages sent by mobile phone and over the web to migrant workers mostly came from Pakistan.