Nine killed in India helicopter collision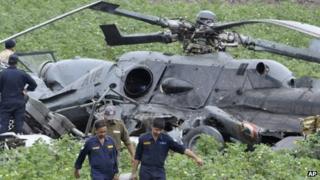 Two Indian air force helicopters have collided in mid-air in India's western state of Gujarat, killing nine defence personnel, air force officials say.
The MI-17 helicopters crashed into each other just after take off from an air base near the village of Sarmat in Jamnagar district.
Officials said the helicopters were on a training sortie.
Air force, police and fire brigade teams have reached the site of the crash and are assessing the situation.
An air force spokesman in the capital, Delhi, said a court of inquiry had been ordered to determine the reasons behind the crash, the Press Trust of India news agency reported.