India urges Pakistan to speed up Mumbai attacks trial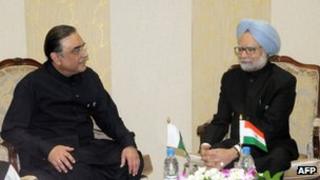 India has told Pakistan that a speedy trial of people held in Pakistan in connection with the 2008 Mumbai attacks would help improve relations.
The move came in talks between Indian PM Manmohan Singh and Pakistani President Asif Ali Zardari at a Non-Aligned Movement (Nam) meeting in Iran.
The Mumbai attacks claimed 166 lives. Nine gunmen were also killed.
Peace talks which were broken off after the attacks resumed last year. Relations have been steadily improving.
India blamed the attacks on Pakistan-based militants.
In 2009, Pakistan arrested and charged seven people, including suspected mastermind Zaki-ur-Rehman Lakhvi, who is alleged to head the Pakistan-based militant group Lashkar-e-Taiba.
Mr Singh "underlined our terrorism-related concerns" during the meeting with President Zardari, Indian Foreign Secretary Ranjan Mathai told reporters.
"He pressed for an expeditious conclusion in 26/11 [Mumbai attacks] trial and said action taken in this sphere [terrorism] would be a major confidence building measure" between the two countries, Mr Mathai said.
President Zardari told Mr Singh that the two countries must make "determined efforts and maintain focus" on dialogue.
He said Pakistan was looking forward to Mr Singh visiting the country at an "early date".
Mr Singh's meeting with Mr Zardari in Tehran came a day after India's Supreme Court upheld the death sentence of Pakistani national Mohammad Qasab, the sole surviving gunman of the 2008 attacks on Mumbai.