India's top court allows some iron ore mining to resume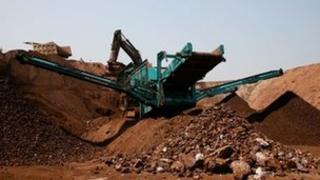 India's Supreme Court has partially lifted its 16-month-old ban on iron ore mining, allowing some mines to resume work in southern Karnataka state.
Companies which had "not violated their lease conditions" could resume mining, the court ruled on Monday.
The ban was imposed last year in Bellary, Chitradurga and Tumkur districts over environmental concerns.
The order will open up about 5 million tonnes a year of production again, reports say.
India is the third largest producer of iron ore in the world and Karnataka, which produces about 45 million tonnes of iron ore per year, is India's second largest supplier.
But mining in the state has been under the spotlight for some time with reports of illegal mining and has become a hot political issue.
The Supreme Court order follows recommendations of the court-appointed Central Empowered Committee (CEC).
In a report in February, the CEC recommended that licences of as many as 49 iron ore miners in Karnataka should be cancelled.
It said 72 other miners should be fined for operating mining pits and burden dumps outside sanctioned areas.
"The extent and level of unauthorised, unregulated, environmentally unsustainable and illegal mining in its various facets has no other parallel in the country," the CEC said it is report.
Last year, BS Yeddyurappa, the then chief minister of Karnataka, resigned after an anti-corruption panel indicted him in a mining scandal. Mr Yeddyurappa denies the allegation.