Two 'militants' killed in Kashmir clash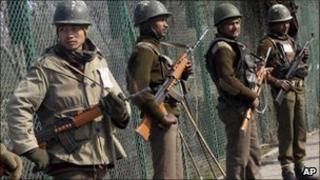 At least two militants have been killed in a gunfight in Indian-administered Kashmir, the Indian army says.
A soldier has also been injured in the fighting, which is ongoing.
Army spokesman Colonel HS Brar said militants had set up hideouts in one of Kashmir's remote forests at Kangan, 58km (36 miles) from Srinagar.
Officials said large areas of the forest had been cordoned off and a massive hunt was on as more insurgents were believed to be hiding in caves.
"We have been hearing gunfire for the past three days. Army men asked us to trek up the mountains and fetch the bodies of militants. We've got two so far," local people in Kangan told the BBC.
Thousands of people have been killed in the region since a separatist movement began in 1989.
Kashmir is claimed by both India and Pakistan, but militant violence has been at an all-time low this year.