'Coalgate' row: India police raid coal firms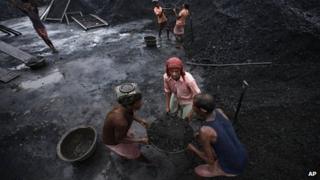 Police in India have carried out raids across 10 cities as part of an investigation into alleged corruption in the allocation of coalfields.
Police searched the premises of five companies, which allegedly misrepresented facts prior to being allocated the coalfields.
Government officials and company employees are also under investigation.
State auditors say India lost $33bn (£20bn) allotting coalfields at below market rates in the years up to 2009.
The controversy has sparked a political crisis with parliament deadlocked for days over demands by the opposition Bharatiya Janata Party (BJP) that the government should cancel the allocations and order an independent probe into the matter.
Although the report by government auditors does not mention Prime Minister Manmohan Singh, BJP leaders say he must step down as he also had direct responsibility for the coal ministry when most of the coalfields were granted to companies between 2006 and 2009.
Mr Singh denies any wrongdoing and has refused to quit.
Public anger
On Tuesday morning, India's Central Bureau of Investigation (CBI) registered five cases of alleged cheating against five companies, various individuals and officials and began conducting raids at 30 locations.
Raids were carried out in Delhi, Mumbai, Calcutta, Patna, Hyderabad and several other cities, the CBI said.
Officials say the CBI inquiry began before the government auditors report came out last month.
At the heart of the CBI's investigation is the allegation that some of the companies were set up only to obtain the coalfields being allocated by the government and then sell them off at profit. Media reports allege that the companies involved misrepresented their ability to mine the coal.
The auditor's report said that of the 86 coal blocks, which were to produce coal by 2010-11, "only 28 blocks (including 15 allocated to the private sector) started production as of 31 March 2011".
But correspondents say the timing of the raids suggests the beleaguered government is eager to be seen to be doing something about an increasingly controversial sale.
Over the weekend the BJP - which has dubbed the controversy "coalgate" - said it would only allow parliament to function if the government cancelled the sales of 142 coal blocks and ordered a probe.
But the government has insisted such demands are premature.
"The demand for cancellation of all 142 coal blocks... is not founded on sound logic... It [the cancellation] cannot be done through diktat or arbitrary orders," Finance Minister P Chidambaram said on Monday.
"There is a procedure for it and that procedure is under way," he said.
India is one of the largest producers of coal in the world.
The auditor's report on the sale of coalfields is the latest in a series of financial scandals to hit the Congress-led government, and the revelations have caused public anger.