Promotions quota bill tabled in India parliament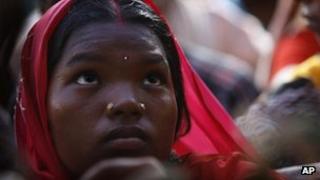 India's government has tabled a bill in the parliament which seeks to help two of the most disadvantaged groups in society by introducing quotas for government jobs.
It proposes to amend the constitution to give the groups - known as backward scheduled castes and scheduled tribes - priority when it comes to promotions.
The move comes after the Supreme Court in April rejected similar quotas.
Reports say that most parties favour this quota proposal.
There is, however, some opposition from the regional Samajwadi Party (SP), which argues that such quotas should also be extended to another socially disadvantaged caste grouping known as Other Backward Classes.
The bill was tabled amid slogan shouting by SP MPs in the upper house of the parliament on Wednesday.
Parliament has been deadlocked for days over alleged corruption in the allocation of coalfields.
The opposition Bharatiya Janata Party (BJP) is demanding that the government should cancel the controversial coalfield allocations and order an independent probe into the coal issue.