Indian man's hand chopped off over $3 debt, say police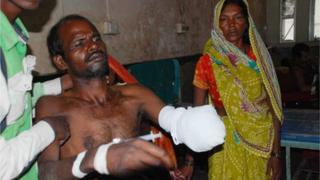 Police in India's Jharkhand state are searching for the owners of an illegal alcohol factory who allegedly chopped off the hand of a villager who asked for money that was owed to him.
Police said the villager, Aliyaar, used to supply wood from the nearby forests to the brewery.
They said he had not been paid for some of the wood and that he was attacked when he demanded his money.
The incident took place in the Manjhiyaon area of Garhwa district.
"He was owed 200 rupees ($3.6; £2.25). Those running the brewery did not pay him. For such a meagre amount, the left hand of Aliyaar was chopped off," Garhwa police superintendent Michael Raj told the BBC.
The victim, who was bleeding profusely, was taken to the government hospital in the state capital, Ranchi, where his condition is said to be stable now, police said.
Mr Raj said they had arrested one man after the incident and were looking for others.
Locally brewed illegal liquor is big business in Jharkhand's countryside.
The business is run by local strongmen who engage villagers for their work.
In some cases, those working in such units are exploited and physically abused.
Aliyaar told the police in the hospital that when he demanded his dues, he was beaten up.
"Then they overpowered me while one of them chopped off my left hand with a sharp weapon. I fell unconscious," police quoted him as saying.