India government 'must scrap' retail reform - coalition ally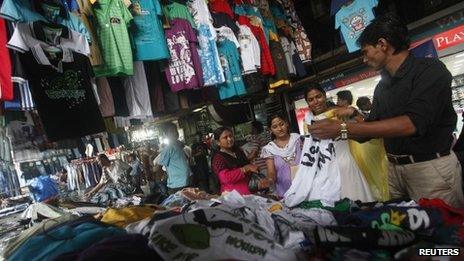 India's government must scrap its plan to open up its lucrative retail sector to global supermarket chains, a key coalition partner has warned.
Mamata Banarjee, the chief minister of West Bengal state, gave Delhi 72 hours to reverse the new policy and warned she could withdraw from the government.
Delhi's plan is aimed at reviving a flagging economy, but small shops fear they will be put out of business.
Last year, the government was forced to suspend a similar plan amid protests.
Ms Banarjee issued her warning during Saturday's street rally in the city of Calcutta, where thousands protested against the opening up of the retail sector and also a recent hike in the price of diesel fuel.
"Do not attack the livelihood of small traders," Ms Banarjee said.
Similar protest rallies were staged in Delhi and also in the southern Kerala state.
Under the government's proposal, global firms - such as Walmart and Tesco - will be able to buy up to a 51% stake in multi-brand retailers.
Multinational retailers already have outlets in India, but they deal with smaller retailers. This decision allows them to sell directly to Indian consumers.
Indian Prime Minister Manmohan Singh has said that the reforms "will help strengthen our growth process and generate employment in these difficult times".
The decision was one of several key reforms announced by the government. It also approved a plan to allow foreign airlines to buy 49% stakes in local carriers, in the hope that this will boost the country's troubled aviation sector.
It also follows Thursday's dramatic 14% rise in the price of diesel, which is heavily subsidised in India.
The government was forced to back down on retail reform after the cabinet first undertook to open up the retail sector last November.
The move had been strongly opposed by tens of thousands of small businesses and corner shops who feared they would be put out of business.
The opposition Bharatiya Janata Party and the Communists labelled it a "betrayal of democracy".
But this latest move has already been welcomed by some economists who say it will transform the way Indians shop and will boost the economy. Some business leaders also backed the plan.
The federal government says the implementation of the policy has been left entirely to the states, suggesting that some opposed to reform could opt out.