Minister Chidambaram says India government is 'stable'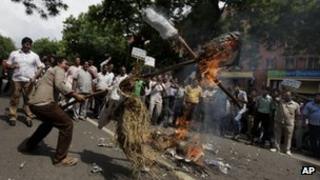 India's Finance Minister P Chidambaram has said the government does "not face any threat" over its decision to open up the retail sector to global supermarket chains.
His remarks came ahead of a meeting by a key ally to decide on whether or not to withdraw from the government.
The Trinamool Congress party demanded that the decision should be scrapped.
Separately, opposition parties have called for a strike on Thursday to protest the decision.
Delhi's plan is aimed at reviving a flagging economy, but small shops fear they will be put out of business.
Last year, the government was forced to suspend a similar plan amid protests.
Asked whether the government had risked its stability by going ahead with the decision, Mr Chidambaram said: "I do not think government faces any threat. The government is stable."
"Our allies in the government and outside will understand and continue their support to the government. We will be able to convince our allies."
Mr Chidambaram said the government plans to unveil more measures to boost the economy in the coming days.
He also ruled out rolling back last week's decisions to open the retail sector to global chains and raise diesel prices.
Meanwhile, the Trinamool Congress party, led by the chief minister of West Bengal state, Mamata Banerjee, is meeting on Tuesday to decide on its course of action.
Media reports suggest six federal ministers belonging to the party may resign in protest, but Ms Banerjee is likely to continue supporting the government with her 19 MPs.
Under the government's proposal, global firms - such as Walmart and Tesco - will be able to buy up to a 51% stake in multi-brand retailers.
Multinational retailers already have outlets in India, but they deal with smaller retailers. This decision allows them to sell directly to Indian consumers.
Indian Prime Minister Manmohan Singh has said that the reforms "will help strengthen our growth process and generate employment in these difficult times".