Mahesh Bhupathi criticises tennis body's 'dirty politics'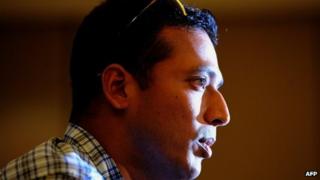 Indian tennis player Mahesh Bhupathi has criticised his country's tennis association for imposing a two-year ban on him and Rohan Bopanna.
The All India Tennis Association (AITA) had taken advantage of the rift between him and tennis star Leander Paes, he said, and was "playing dirty politics".
On Saturday, the AITA said Bhupathi and Bopanna would "not be selected to play for India till 30 June 2014".
The duo angered officials by refusing to partner Paes for the Olympics.
Paes in turn initially said he would not play at all in the Games if Bhupathi and Bopanna were sent as a team.
The All India Tennis Association (AITA) was left with no choice but to pair Paes with lower-ranked Vishnu Vardhan while Bhupathi and Bopanna were eventually selected as the second team. Neither partnership won any medals.
'Disciplinary action'
"At the twilight of my career to face a ban from playing for the country and termed a traitor is unacceptable to me," he said.
Bhupathi, 38, on Tuesday said that while he would "explore legal options" against the tennis association for its ban against him, he has played his last match for India.
"I am not here to list my achievements," Bhupathi read from a prepared statement, adding that 2013 would be his last year on the professional tour.
"Rather, I am here to detail episodes of the personal vendetta the AITA and its dictatorial rule have carried out against me over the last decade.
He singled out AITA President Anil Khanna for the deteriorating relationship with his former friend Paes.
"Anil Khanna has enjoyed the rift between Leander and me as no other," he said.
"He has re-defined the term divide and rule and at this year's Olympics, used Leander's shoulder to fire the gun against me multiple times."
Paes and Bhupathi joined forces to make a formidable partnership in the late 1990s, winning three grand slams, but the ageing pair do not now speak to each other following a second acrimonious split last year.
Bhupathi - who has won 12 grand slam doubles titles in total - called for the AITA leadership to resign and make way for the next generation.