Sohrabuddin Sheikh killing: India court boost for Amit Shah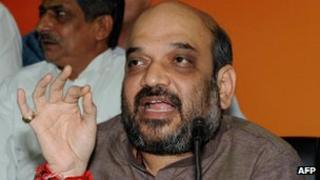 India's Supreme Court has refused to cancel bail granted to former Gujarat minister Amit Shah who is an accused in the extra-judicial killing of Sohrabuddin Sheikh, a Muslim civilian.
But the court moved the trial out of Gujarat to Mumbai on the grounds that Mr Shah may try to influence witnesses.
In 2005, police killed Sheikh saying he belonged to an Islamic militant group.
Later, they admitted he had been killed in a staged gunbattle and three top policemen were charged with his murder.
The authorities later admitted that his wife, Kausar Bi, was also killed and her body burnt.
Mr Shah, a close ally of Gujarat Chief Minister Narendra Modi, was charged with murder and kidnapping and arrested in connection with the killing in 2010.
He spent more than three months in jail after which he was released on bail. The Central Bureau of Investigation (CBI) had challenged his bail, and sought the transfer of the case out of Gujarat.
Correspondents say Thursday's court order has come as a boost to Mr Shah and Mr Modi and the verdict has already been hailed by their Bharatiya Janata Party (BJP).
"We welcome the verdict by the Supreme Court. We always believed in the innocence of Amit Shah," the party said.
In January, the Supreme Court ordered an inquiry into at least 20 cases of alleged extra-judicial killings in Gujarat from 2003 to 2006.
Along with Mr Shah, several top police officers are accused in some of the cases, referred to as staged gunbattles or "fake encounters".
In such encounters, security personnel shoot suspects held in custody but claim there had been an exchange of fire.
Human rights groups have repeatedly expressed concerns about the "fake encounters".