India voices from the landless march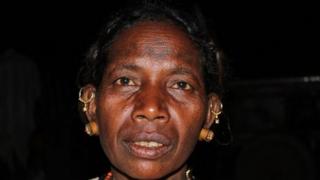 Tens of thousands of India's landless poor are marching from Gwalior city, in Madhya Pradesh, to the capital, Delhi, braving intense heat, surviving on one meal a day and sleeping on the roadside at night, demanding their right to land. The BBC Hindi's Divya Arya caught up with the protesters in Rajasthan to find out why they feel entitled to land?
FUISHI BAI, HINDORI, MADHYA PRADESH
I was born into the Baiga tribal community in Madhya Pradesh's jungles. We depend on the jungle for our livelihood, food and shelter, which is why we consider it to be our land. But last year, forest officials told us that this amounted to illegal occupation and we were asked to leave that land.
Some of our homes were demolished and others were burnt, so now we live on someone's land in a village, always in fear of being removed by the police or the forest authorities.
We still depend on the forest for wood and we don't want to leave this area. My son too doesn't want to move to the city.
We are demanding a document from the government that declares us as the owner of our forest land, so that we can live our lives without fear.
KUMAR KOIJOR, SUNDARGARH, ORISSA
I belong to the Oram tribal community and I live in Orissa's Birmitrapur town, which is also home to Asia's second largest limestone company, the Bisra Stone and Lime Company.
Around 35 years ago, this company, which was set up in 1908, began mining on what we believe is our land. So we had to leave. But, we did not get any compensation or alternate land in return.
My family lost 3.5 acres (1.4 hectares) of land, but we were lucky to keep 8 acres (3.2 hectares) of land on which we grow rice for a living.
But many others were left with nothing. They had to pack their bags and migrate to big cities like Delhi, where their children do menial jobs to make ends meet.
I have brought together as a group those who lost their land. We are a group of 82 families who lost 175 acres (70.82 hectares) of land and we live in the hope that some day we might get our land back.
MUNNALAL, BUNDELKHAND, UTTAR PRADESH
I belong to the lower Sahariya caste.
We move from one village to another, looking for work as daily wage-earners on farms, construction sites and stone-crushing units. We are given a place to stay by our employers and when work ends, we are asked to leave. So we usually stay in one place for only two to four months.
If we were able to get land, we could stay in one place and educate our children, and that would help them build a better life for themselves.
I have three sons, but they don't have a place they can call home.
One of my sons moves with me, the second works with a contractor in a nearby village and lives on his land, and the third drives an ambulance in a city and lives in a rented room there.
LAADON, KUSHINAGAR, UTTAR PRADESH
We are tribespeople and live in a hut near a canal. The land belongs to the government and we are often threatened by the police who want us to vacate it. Even the people who own the fields nearby intimidate us.
My parents lived like this yet, sadly, we are still considered to be illegal occupants.
We are very poor - my sons are labourers, my husband is a grass-cutter and I tattoo women to make ends meet. We want the government to declare us as the legal occupants of this land.
There is a government scheme called the Indira Aawaas Yojana, which is meant to help people who live below the poverty line construct homes.
But since we don't have any land, we cannot benefit from schemes like these.