Why Amitabh Bachchan is more than a superstar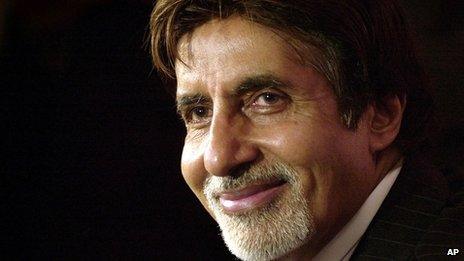 Bollywood superstar Amitabh Bachchan turns 70 on Thursday. Indian writer and journalist Madhu Jain says the actor is more than just a star in a movie-mad nation.
It's time to celebrate the life and times of a Bollywood legend... again.
There's a frenzy of celebrations: Reportedly, two birthday parties are planned; and Amitabh Bachchan's family has organised an art exhibition with works inspired by the actor and created by major Indian painters and sculptors. The exhibition will later be made into a book.
It is not too difficult to understand all the fuss.
This is the man who carried the Olympic flame in London; was voted the greatest actor ever by a BBC online poll; was the first Indian actor to become a waxwork at Madame Tussaud's; acted in nearly 200 films; and was once forced to clear immigration in his hotel in Cairo, because his Egyptian fans became overly enthusiastic at the airport.
But in India, Bachchan has come to be more than just a star. He has taken on the contours of a national icon.
If you ask somebody in a remote corner of this country who their prime minister is, they are likely to look puzzled. Ask him or her who Amitabh Bachchan is and they will know, even if they may not have seen even a single one of his films.
India has had several successful thespians and insanely popular stars - but nobody who has stayed the course for so long, and towered over the rest as he has (albeit intermittently) for much of his 43-year-long innings.
Bachchan's first film, KA Abbas's Saat Hindustani (Seven Indians), was released in 1969 and promptly flopped at the box-office - as did a host of his other films, like dominos.
Apparently, he was ready to call it a day. Bachchan, who was at the time dating the successful film star Jaya Bhaduri, was almost ready to take the train back to Calcutta, where he had previously worked in a commercial firm and acted in a few plays.
Had the screen writing duo Salim-Javed (Salim Khan and Javed Akhtar) not created the angry young man persona for him for the film Zanjeer (Chains) the actor's celluloid dreams may never have been realised.
Directed by Prakash Mehra in 1973, the film also gave this prototype character the name Vijay. It means victory and Bachchan adopted the name in many of the films that followed.
The 1970s were turbulent in India. There was political unrest and the imposition of the Emergency by Prime Minister Indira Gandhi. There was unemployment and labour unrest, and a souring of the post-Independence dream of a new dawn.
The Bachchan persona, as packaged by Salim-Javed, was a creation of the times. Essentially an urban creature, he was a loner, born and bred in the slums. Bachchan became a symbol of protest against India's ills - and his popularity triggered a decline in the traditional rural romances that dominated Hindi films.
It was in Yash Chopra's film Deewaar (Wall) in 1975 - also scripted by Salim-Javed - that the Vijay persona came into its own - an angry young man seething with an intensity seldom seen on the Indian screen.
In Deewar, Vijay was a hardened smuggler, who had grown up on the sidewalks of the crime-ridden city of Bombay.
Vinay Lal, author of Deewar: The Footpath, The City and The Angry Young Man, wrote that Deewar was the first film in Hindi cinema to establish "a dialectic between the footpath and the skyscraper, the two are pre-eminent signs of the film's urban landscape".
Bachchan's career moved into fifth gear after both this film and Ramesh Sippy's Sholay (1975). The movies he made with Manmohan Desai (Amar Akbar Anthony, Naseeb, Mard) were immensely successful but towards the latter half of the 1980s his career went into a downspin.
However, the importance of being Amitabh Bachchan is not limited to his career, although he reinvented himself and experimented with his roles and acted in many successful films.
It is the many lives that he has packed into one.
Bachchan was a politician, becoming a member of parliament in 1984 at the behest of his friend, former Prime Minister Rajiv Gandhi.
But the star resigned, disillusioned, three years later.
Bachchan was also a businessman, setting up the Amitabh Bachchan Corporation in 1995 for event management and the production of films, a venture that failed.
Near-bankruptcy followed at some point.
But. ever the master of resurrection, Bachchan bounced back with the TV game show Kaun Banega Crorepati, based on the UK game show Who Wants To Be A Millionaire, at the beginning of this millennium.
And there has been no looking back since. The actor was back in sync, and back in touch with the nation. His years of being down and out had taught him humility and, with it, empathy.
So, here he is today, ubiquitous - endorsing brands, providing voice overs with his trademark baritone, acting in experimental films, and being the brand ambassador for India's Gujarat state.
And yes - next year, at the age of 70, he finally will make his Hollywood debut in Baz Luhrmann's 3D adaptation of The Great Gatsby.
Madhu Jain is a senior journalist and author of Kapoors: The First Family of Indian Cinema
Related Internet Links
The BBC is not responsible for the content of external sites.