India Mayawati's BSP defers review of support to government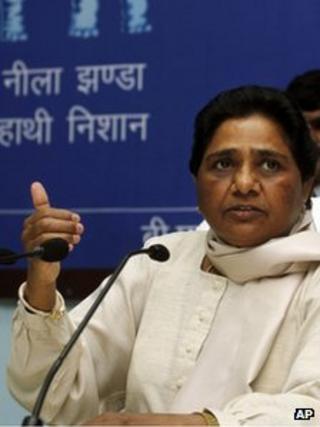 A powerful regional party in India has deferred its decision on whether to continue support to Congress party-led government.
Bahujan Samaj Party (BSP) leader Mayawati said the party had left it to her to take a decision on the issue.
A key ally left the governing coalition last month in protest over the decision to allow foreign investment in retail.
But support from the BSP and regional Samajwadi Party has ensured that the government is not at risk.
The BSP - which has 21 MPs - and the Samajwadi Party - with its 22 MPs - have not joined the government but support it from the outside.
Their support has become the key to government's survival after the regional Trinamool Congress quit the coalition last month.
"The BSP's national executive and parliamentary board have authorised me to take a final decision on support to the UPA [United Progressive Alliance] government," Ms Mayawati told a press conference after the meeting on Wednesday morning.
"The decision on the BSP continuing outside support to the UPA will come soon," she said.
Ms Mayawati also announced a nation-wide agitation against corruption and the "anti-people" policies of the government.
Correspondents say Ms Mayawati has so far left the door open on whether her party will support the government on the issue of opening up the multi-brand retail to global supermarkets.
"If the financial situation of farmers and small traders improves because of FDI [foreign direct investment], we could welcome it in future but currently we do not support it," she said.
Ms Mayawati, who was until recently the chief minister of the most populous state of Uttar Pradesh, is an icon to millions of low-caste Dalits (formerly known as Untouchables) and has a very strong support base in the state.
She is now an MP from the Rajya Sabha - the upper house of parliament.