IPL's Deccan Chargers sold to Mumbai real estate firm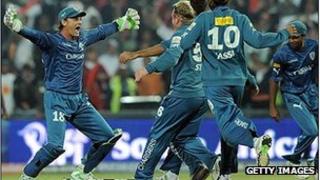 The troubled Indian Premier League (IPL) cricket team Deccan Chargers has been sold to a Mumbai-based real estate company for an undisclosed sum.
The Deccan Chronicle Holdings Limited said they decided to sell the Hyderabad-based franchise after their board of directors met on Thursday.
In September, the team had failed to find a buyer after it rejected the only bid it received.
Deccan Chargers had won the championship in 2009.
But since then, the team has performed erratically - it finished eighth among nine teams last season.
The owners had paid $107m (£67m) for the franchise in 2008.
On Friday, they informed the Indian stock exchanges of their decision to sell the team to the real-estate firm, Kamla Landmarc.
Last month, the Deccan Chargers was put on sale by its owners to tide over a financial crisis.
The IPL is considered to be the world's showcase for Twenty20 cricket.
Top Indian and international players take part, contributing to what is the world's richest cricket tournament.