Is Arvind Kejriwal a harbinger of a new Indian politics?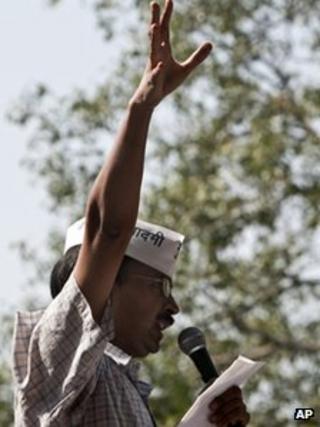 Is Arvind Kejriwal a harbinger of a new politics in India?
The dour former bureaucrat, who set up an anti-corruption party recently, has whipped up a storm, levelling serious corruption charges against some of the country's senior most politicians.
And this is just the beginning, he promises.
Last week, Mr Kejriwal, 44, took on the first family of Indian politics, saying businessman Robert Vadra, son-in-law of Congress party chief Sonia Gandhi, enjoyed cosy business links with a top property development company in return for favours. Both Mr Vadra and the company, DLF, denied the charges.
Over the weekend Mr Kejriwal trained his guns on Law Minister Salman Khurshid, accusing him and his wife with embezzling public funds meant for an NGO for the disabled that the couple have been running for years. Mr Khurshid furiously rejects the allegations, but Mr Kejriwal has soldiered on and is now demanding an independent investigation.
Mr Kejriwal, clearly, is winning the war of perception as the harried Congress party government, already battling a series of corruption scandals, appears to be on the backfoot.
The activist-turned-politician has been described by senior party figures as an inveterate publicity seeker who conducts his politics in the full glare of India's feverish news channels. "He wants popularity and is using the media for this. He does not know what democracy, parliamentary procedures are," an irate minister said over the weekend.
Even independent commentators find Mr Kejriwal's style of politics uncomfortable: "a trademark mixture of gimmickry and mudslinging" sometimes dangerously bordering on demagoguery, as one wrote.
I have also been a bit ambivalent about Mr Kejriwal's righteous, shoot-and-scoot politics, flinging serious allegations against leaders based on what he believes is substantial evidence, and moving to his next "target" even before the dust settles down on the previous episode. Will challenging suspected wrongdoing on the streets instead of in the courts erupt in public anarchy? (Mr Kejriwal talked about creating India's own Tahrir Square during a protest against corruption last week.) Or does India actually need some anarchy to shake up people and resuscitate its rotting institutions like the police and the judiciary?
But what nobody can deny, many believe, is that Mr Kejriwal has shattered an inviolable code of silence, by talking openly about what he believes are transgressions of the powerful and influential, the so-called "high and mighty" of India's intensely unequal and hierarchical society.
They point to the fact that when a leading business paper published a story about Mr Vadras' business dealings last year, it hardly caused a ripple. Even the main opposition BJP reportedly decided not to rake it up. Other media ignored the story. But when Mr Kejriwal spoke out last week, it swept the air waves and became the biggest talking point in an increasingly cynical nation.
"Somebody has to stand up and speak out," says Yogendra Yadav, political analyst and member of the as yet-unnamed party. "This code of silence helps protects wrongdoers."
Whether the allegations made by Mr Kejriwal eventually hold up in court remains to be seen. But Mr Yadav says: "Business, politics and business ethics are the larger questions. Should the most powerful family in the country, for example, be indulging in business practices which are dubious at best?"
Mr Kejriwal, clearly, is a street-fighting outsider who is trying to change the conventional narrative of Indian politics by taking on the rich and powerful. Analyst Aditya Nigam believes his political party will be "resolutely an anti-party", where the pursuit of power doesn't become its only raison d'etre.
If Mr Kejriwal succeeds, it will mean the implosion of politics as we know it in India. If it ends up in the detritus of failed political initiatives, it will still be a small step in the evolution of a republic, where democracy should not begin and end with winning elections. Hopefully.