India minister Salman Khurshid warns Arvind Kejriwal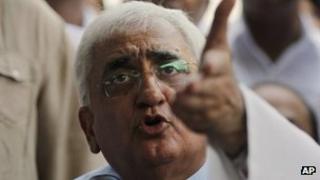 India's Law Minister Salman Khurshid has warned anti-corruption activist Arvind Kejriwal against visiting his constituency.
"He can come to Farrukhabad but should keep in mind that he has to return too," he was filmed telling a meeting.
Mr Khurshid said as the law minister, he had to "work with the pen. But I will also work with blood," he added.
Mr Kejriwal, who accuses Mr Khurshid of embezzling funds for disabled people, said "killing me won't help".
"The entire country has woken up. If one Arvind dies, he will be replaced by a hundred more Arvinds," Mr Kejriwal wrote on the micro-blogging site, Twitter.
Last week, Mr Kejriwal's group India Against Corruption alleged that Mr Khurshid and his wife Louise had misappropriated 7.1m rupees ($134,456; £83,815) given by the Social Welfare Ministry to their Zakir Hussain Memorial Trust.
The funds were meant for distributing cycles and hearing aids in 17 districts of Uttar Pradesh state.
Mr Khurshid has denied the charges, saying none of them can be proved. He said he was open to an investigation by "any authority".
On Monday, the campaigners suspended their protest in Delhi and said that the venue of the protest would now move to Farrukhabad, Mr Khurshid's parliamentary seat, from 1 November.
Earlier this month, Mr Kejriwal levelled corruption allegations against Robert Vadra, son-in-law of Congress party chief Sonia Gandhi.
Later on Wednesday, the activist is expected to unveil corruption allegations against a senior leader of the main opposition BJP.
A member of his organisation told a TV channel that they have documents proving wrongdoing by several other senior politicians and that they will be released over the coming weeks.