India's big holiday season: Bane or boon?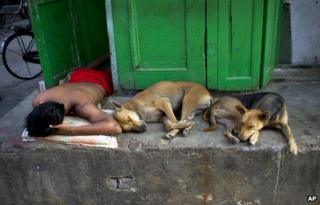 How would you like an uninterrupted 10-day public holiday?
Well, the lucky people of West Bengal state will begin to enjoy one from tomorrow, to mark the beginning of a packed festival season.
Here's how the 10-day holiday works: the weekend (20 and 21 October) begins on Saturday, Monday to Thursday (22 to 25 October) is the Durga Puja festival, there's a holiday to celebrate Id on Saturday (27 October), followed by a Sunday (28 October). The state government, headed by the populist Mamata Bannerjee, has helpfully bridged the gap, declaring Friday 26 October as a public holiday too.
Bengalis possibly love their holidays unspoilt, so it's little surprise that even newspapers will not be printed in the state for four days - 22 to 25 October - during the Big Holiday. One would have thought that newspaper hawkers, who depend on sales for their livelihood, would have protested, but no, they are happy, and have apparently been demanding a "newspaper holiday" for 20 years.
A journalist friend in Calcutta says she's surprised at the absence of any outrage against the Big Holiday in an economically stricken state like Bengal, which has been battling massive joblessness, an appalling work culture and government inertia for decades. West Bengal contributes at least 6% to India's GDP and is a major farming economy, but does poorly in business. The World Bank's Doing Business India in 2009 ranked it nearly bottom of the list of 17 benchmarked cities where it was easy to do business.
By itself, a 10-day public holiday should be no big deal. People in some places in the world enjoy more holidays than people in other places. Colombia has the greatest number of public holidays in the world, and Mexico the least, according to consulting firm Mercer. In Asia, India, Thailand and Malaysia have the most public holidays (16 days); India's neighbour Pakistan has 11. How much leave an Indian gets depends on who you work for and in which state you live. The same is true at state level - West Bengal has nearly 30 listed public holidays every year, but no one gets all of them.
But do Bengalis all deserve their holidays? Calcutta-based economist Abhirup Sarkar says: "I have nothing against a 10-day holiday. The problem here is that people don't work when they are supposed to."
Others would say that too much work and not enough play is a bad thing. I'll report back - I'm just off to Calcutta.