Indian rickshaw-puller's baby Damini in hospital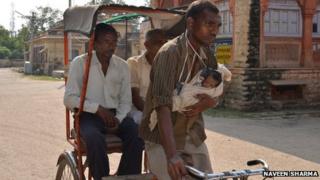 A month-old baby girl in India, who following her mother's death was being carried around in a sling by her rickshaw-puller father as he worked, has been admitted to hospital.
Damini was taken to the Fortis hospital in Jaipur city on Sunday night after her condition turned "critical".
Doctors say she is underweight, weak, and suffering from septicaemia.
Meanwhile, numerous offers of help for the rickshaw-puller Bablu Jatav and Damini have come into the BBC.
Mr Jatav's wife, Shanti, died on 20 September, soon after giving birth to their first child in Bharatpur town in Rajasthan state.
As there was nobody to look after the baby, Mr Jatav had to take her to work with him every day.
After reading about the family's plight, the district administration is now helping Mr Jatav.
"We consulted all senior doctors in Bharatpur and Jaipur and decided to shift Damini to Jaipur for better treatment," local government official GP Shukla told the BBC.
The Jatavs were sent in an ambulance, arranged by Mr Shukla's office and accompanied by a doctor and a nurse, to Jaipur.
The authorities have also promised to help Mr Jatav so that he can take better care of his daughter and a state-owned bank has given him a rickshaw and 11,000 rupees ($205; £128).
Mr Jatav's heart-rending story has moved people around the world and the BBC office has been receiving calls to help the family from India and abroad.
On Monday morning, the BBC received a call from an Indian taxi driver in the US city of San Francisco who said he had collected $300 for Mr Jatav and his daughter. He said most of the contributors had been Pakistanis living in the US.
Another Indian living in the US has offered to donate 100,000 rupees ($1,863; £1,162) to help the family.