Unlettered fruit-seller's Indian education dream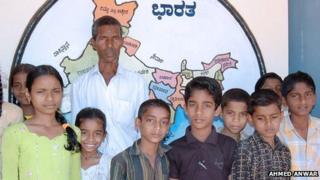 Harekala Hajabba, an illiterate fruit vendor in southern India who struggled to build a primary and high school from his savings for the village children, is busy charting his next step - a pre-university college.
The dirt road leading to the school in Newpadpu village, about 350km (217 miles) from Bangalore city, is muddy from the rains, but there are no complaints from the 130 students of Dakshina Kannada Zilla Panchayat Higher Primary and Composite High School.
The village had no school until 2000 when Mr Hajabba, who earns about 150 rupees ($2.8; £1.7) a day from selling oranges in the nearby city of Mangalore, set up a primary school from his meagre savings.
"The first time I felt handicapped because of my lack of education was when a foreigner asked me the price of the fruits in English. I didn't not know what he meant," says Mr Hajabba, 55.
"An idea struck me to start a primary school so that the young children of my village would not go through a similar situation," he says.
Inspirational figure
The locals revere him for setting up the school, but he is not distracted by the praise and comes across as a man on a mission.
Thufail Muhammad, a senior journalist at The Hindu newspaper who has covered Mr Hajabba during his struggles, says he has sacrificed much of his family life to make his dreams come true, and has inspired many in the process.
"He earned very little to even dream of starting a school. But, his determination to educate others drove him towards success. In a country like India where education is not the primary goal for many rural families, Mr Hajabba is a shining light," Mr Muhammad said.
When Mr Hajabba decided to start a school in 2000, he received little support, but his determination saw him open a primary school with 28 students in a madrassa - a Muslim educational institution generally connected to a mosque.
As the number of students grew, he needed new premises, so he took out loans and used his savings to buy land for the school.
With support from a few philanthropists and his own savings, Mr Hajabba managed to construct a small building for the primary school.
But, he did not rest on his laurels and worked hard to raise money for the school to grow.
His efforts paid off and in June, the high school - for students aged 10 to 14 years - was inaugurated.
The premises will serve the high school students who have since 2008 been using rooms in the primary school for want of a building.
Recognition and awards
Provisional data from the Indian government's 2011 census states that about 25% of the country's population cannot read or write. Many children do not go to school because there are none in their villages.
Perhaps ironically, it was the printed word that first got the fruit-seller's efforts noticed - an article in a local newspaper described his struggle to pay off the mortgage for the land on which the school stands today.
The government then sanctioned 100,000 rupees ($1,852; £1,157) for the school building and a local newspaper, Kannada Prabha, named him their Person Of The Year.
"The award consisted of a purse of 100,000 rupees. People started sending in donations, irrespective of their caste or religion, and congratulated me. Until then, I was an unknown person," Mr Hajabba said.
His work also earned him the Real Heroes award from television channel CNN-IBN.
Despite the fame, Mr Hajabba's humility and dedication remains untouched.
"In which school can you find the development and monitoring committee vice-chairman [Mr Hajabba's official title]sweeping the floor? He does not have a chair of his own in the school," school headmistress Veena GH said.
Mr Hajabba is now working to turn his next dream into reality - getting a college for his village.
The nearest government-run pre-university college is about 7km (4 miles) away in Deralakatte and once out of school, many of the students from his school have to pay for education at private institutes and colleges.
"If we have a government college in our village, the poor families would not have to pay for higher education," he said. "So I have started saving and also requested the government to sanction a college in the village."
BBC Monitoring reports and analyses news from TV, radio, web and print media around the world. For more reports from BBC Monitoring, click here