India politician Virbhadra Singh warns TV reporters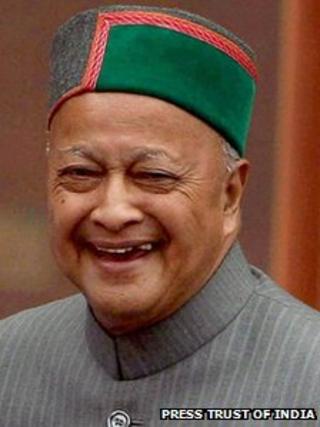 A former Indian minister warned television reporters that he would break their cameras if they continued to ask him unnecessary questions.
Virbhadra Singh was angered by repeated questioning over corruption allegations.
He has been accused by the opposition BJP of evading income-tax, money-laundering and forgery.
He quit in June as minister for small, micro and medium industries after a court charged him in a corruption case.
Mr Singh and his wife strongly deny bribery and criminal misconduct charges, arguing that the lawsuit against them has been "totally fabricated" by the BJP.
A senior member of the ruling Congress party, Mr Singh has been chief minister of Himachal Pradesh state five times.
"I will break your cameras. Don't you have any work to do?", Mr Singh said late Tuesday evening when reporters asked him about fresh corruption charges levelled against him by senior BJP opposition leader Arun Jaitley.
Mr Jaitley has accused Mr Singh of a variety of corruption charges, which Mr Singh insists are "baseless".
"I will deal with all these issues after the [Himachal Pradesh state assembly] election on 4 November," he said.