India: Manmohan Singh reshuffles cabinet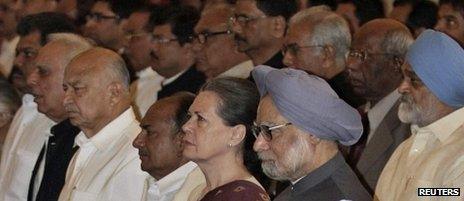 Indian Prime Minister Manmohan Singh has brought 22 new ministers into the government in a major reshuffle.
The move is being seen as an attempt to get younger politicians into the Congress Party-led government ahead of national elections in 2014.
Rahul Gandhi, of the influential Nehru-Gandhi dynasty and tipped as a future leader, refused to join the cabinet.
Over the past few years, the Indian government has been hit by a number of corruption scandals.
Along with seven new ministers, 15 junior ministers were sworn in.
Key portfolios affected by the reshuffle include oil, foreign affairs and justice.
Foreign Minister SM Krishna, 80, resigned on Friday to "make way for younger people."
He has been replaced by Salman Khurshid, 59, previously law minister.
Congress has been the dominant force in Indian politics for almost all of the past 65 years.
But since its re-election in 2009, it has been tainted by allegations of corruption and the mis-selling of national assets.
A spokesman for the main opposition BJP party, Rajiv Pratap Rudi, told AFP the reshuffle was a "vain exercise by the government to refurbish its image in the face
Related Internet Links
The BBC is not responsible for the content of external sites.