What does the India government reshuffle mean?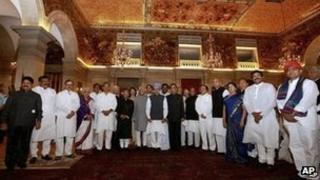 Can Sunday's major reshuffle revive the fortunes of the Congress-ruled government, hobbled by allegations of corruption, indecisiveness and inaction?
India's governments have been traditionally dominated by elderly politicians, prompting critics to jest that the country, where half the population is under 25 years of age, is really a gerontocracy.
PM Manmohan Singh pointedly said he had tried to put together a combination of "youth and experience" in the new cabinet to take on the formidable challenges in the run-up to the general elections due in 2014. Some young politicians have been given key portfolios.
But this cabinet is only slightly younger than the previous one. At 80, its oldest member is Mr Singh himself, while the youngest member is junior minister, Sachin Pilot, 35. The average age of a full cabinet minister remains a little over 64 years, though the average age of a minister is now 58.
There are questions about how representative it is too. Only 12.5% - 10 out of 80 - ministers are women; only two have cabinet rank. There is no full cabinet minister from north-eastern states and five other states.
So is the Sunday reshuffle a game-changer at all?
Most believe it's the usual mixed bag of changes. On the upside, the railways ministry, traditionally run by profligate regional populists, returns to an efficient Congress party minister (Pawan Kumar Bansal) after nearly two decades. But another well-respected minister (Jaipal Reddy) is moved out of the crucial petroleum ministry and "demoted" to science and technology. A combative and politically networked senior minister (Kamal Nath) has been awarded parliamentary affairs in addition to urban development to build bipartisanship in what many say is a broken parliament and help the government to pass crucial laws.
Then there are the usual clever political concessions. Mr Singh has inducted half-a-dozen ministers from the southern state of Andhra Pradesh, where the Congress has been fast losing ground to a breakaway group led by the son of a former loyalist leader who died in a helicopter crash and the mounting movement for a new Telangana state. The high profile elevation of Salman Khurshid as the new foreign minister - only the third Muslim to hold the position since Independence - is a deft nod to Congress's faith in India's plurality.
However, in no way, is this reshuffle is a break with the past - or a "junking of old old debris", as leading columnist Pratap Bhanu Mehta says - nor does it attempt anything radical. "Instead, it is an odd combination of caution, brazenness and political trifling," writes Mr Mehta. Most of the so-called young ministers are privileged dynasts who haven't displayed much political imagination or administrative acumen in the past. Rahul Gandhi, tipped as the future prime minister, still refuses to join the government and get his hands dirty. He is said to be working on revitalising the party.
Which brings us back to the old question: are India's political parties - and in this case, the Congress - in sync with the growing aspirations of its people? Old, discredited status quo politics and new realities make for strange bedfellows.