India: Fresh bird flu outbreak in Bangalore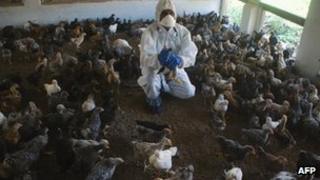 Authorities in India's Bangalore city have culled about 30,000 birds after an outbreak of bird flu was confirmed.
The order came after tests showed that turkeys at a government poultry farm had died of the virulent H5N1 strain.
Birds, including turkeys and emus, have been killed so far to prevent the bird flu from spreading in the city, which is India's info-tech hub.
The culling operations will continue for the next few days, officials said.
The virus was first detected at the government-run poultry department at Hessarghatta on the outskirts of the city.
"Measures are in place to control and contain the avian influenza," a senior official said.
A ban has also been imposed on the sale of poultry products in and around the affected farm.
The bird flu scare has drastically brought down the price of chicken in the southern city, worrying local traders.
More than 150,000 birds are reared in this poultry belt, which covers 68 villages.
The reason for the outbreak is being investigated, with officials not ruling out migratory birds carrying the flu.