Can the 'American Dream' be reversed in India?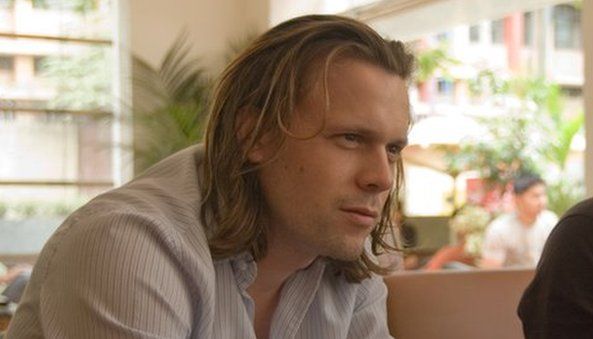 America's Silicon Valley has always been a hub for some of the brightest and best Indian immigrants to start businesses. Now, in a reversal, more people from the US are moving to the sub-continent with their ideas.
Valerie Wagoner is a smart and articulate woman. Educated at Stanford University, and a former employee at the online auction site Ebay, her credentials could get her work anywhere in the world.
Valerie quit Silicon Valley in California for Bangalore five years ago and is now at the helm of her own mobile marketing company, ZipDial.
More than half of the start ups founded in Silicon valley since 2005 were begun by immigrants to America, with as many as 1 in 3 started by an Indian, according to research from the Kauffman Foundation.
But now a small yet significant group of Americans are leaving their homeland for India.
What makes this trend different from the usual flow of expat labour is that these people aren't on the usual fixed-term company transfer, but have moved east to become entrepreneurs, doing things on their own in an often tricky business climate.
'Not for the faint of heart'
"India is definitely not for the faint of heart. Everybody figures out within a month whether they're going home at the end of the month or staying," says Valerie as she shows me round her office.
She chose India above China, because it's an English-speaking market.
"There's such a huge opportunity here to innovate and build businesses which are unique to this market," she explains.
Her business idea was all about tapping into a growing mobile phone market and the culture of the 'missed calls' in India to create a unique marketing platform.
She developed technology which allows people to dial a number to enter a contest or prize draw. They then hang up and get a text from the advertisers - this saves them cost of a call.
To Valerie the opportunity India presents isn't just about an economy which is growing at a faster pace than her home country, but about the type of innovation on offer.
"No market is saturated, everywhere you turn, there's just so much need that there's a lot of room to innovate."
It is still common in Asia for innovation to replicate Western ideas, for example an Indian version of Amazon, but Valerie believes as things evolve, Bangalore could one day rival Silicon Valley when it comes to exporting original ideas around the world.
Over the past few decades the southern city has become a hub for entrepreneurs like Valerie, as India's technology capital. It earned its nickname as 'India's Silicon Valley' for its high penetration of tech companies, and is home to some of the big global software giants such as Google, Microsoft, and Yahoo.
It was even named one of the top 10 places to start a business in the world, by Startup Genome, a research project based in America's Silicon Valley .
But what is attracting some of the brightest overseas talent to India?
The high concentration of Indian engineering graduates and a start-up culture are what drew Sean Blagsvedt to the city, from Seattle.
He moved to set up Microsoft Research's offices, some seven years ago. "I believe there's the same potential for intelligence across the globe, so if you have a sixth of the world's population you have a sixth of the world's brainpower here too."
A few years later he left to start his own business, with a fellow American, Vir Kashyap.
The country's problems and inefficiencies, poverty and poor infrastructure for example, are challenges for the newly-arrived entrepreneur.
But they can also be opportunities for a foreign start up, if you can find the right business model to help solve them.
For Sean and Vir it was finding a way to match jobs and labour in the country's vast yet predominantly informal workplace. Their website, babajob.com, is a recruitment portal for lower middle class Indians.
Sean says theirs is one example of how the internet and technology are starting to address social problems in India, in a way America already has. Any idea in Silicon Valley, says Sean, might be chased by 20 other people.
"The marginal utility is getting smaller, iPhone 5 versus iPhone 4S, for example, but in India the opportunities are far more fundamental - 'how do you get credit to people? How do you get food to people?'
"The scale of the problems you're able to solve is bigger here, and those opportunities no longer exist in America right now."
The ideas might be ripe, but coming to India and starting your own venture can difficult. Being a foreigner means that getting visas approved, bank accounts opened and contracts signed can be doubly difficult.
"America's still an easier place to start a business. It has the best education system in the world and a fair and transparent legal system," he says, stressing that the potential India offers still makes it worthwhile.
India is changing in many ways, and its emerging culture is also throwing up plenty of business ideas.
For Adam Sachs, who moved to Mumbai from Manhattan, it was India's burgeoning dating scene.
Adam started a dating website for New Yorkers, but shortly after it's launch, realised there was another market which needed his services more.
"We would be hustling in New York, throwing parties at universities and growing moderately - but then we'd go back and look in our Google analytics and see that all these people were using the site in India.
"At first it was so foreign to us. We had never been to India and certainly never anticipated that this would be successful here."
But slowly Adam and his co-founders saw that their biggest customer base was indeed here in India. Traditionally, dating before marriage was uncommon, but now many urban Indians have several partners before tying the knot.
So a few months ago Adam packed up his bags and moved to Mumbai, where he now runs his operations. His website, Stepout.com, has 4.5 million registered users - 95% of them are in India.
"What we've learned about India is that culturally, it's shifting, and that especially in the younger generation, the 20-somethings who are our target audience, the average marriage age is getting older, the rate of arranged marriages is decreasing.
"It's ok for young people to go out and meet that person they want to spend the rest of their lives with. There's this golden opportunity to help them do that."
Adam says what makes him different from many of his fellow Americans who have relocated to India in the past is that he isn't here for cost savings or cheaper labour, but for the potential to make money in an emerging economy.
A changing world means the rise of the American entrepreneur in India is perhaps inevitable.
We want to hear from you. You can contact BBC journalists @Rajiniv and @HasitShah on Twitter, where you can also join the conversation and share your thoughts using the hashtag #bbcindiandream.