Taj corridor case: India court boost for Mayawati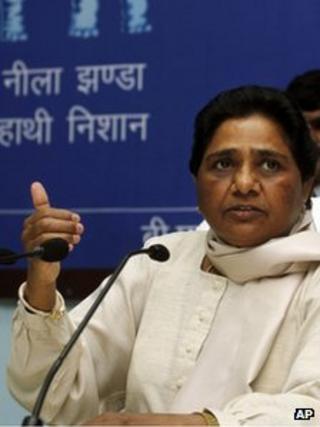 A court in India has dismissed petitions which wanted Mayawati, the former chief minister of Uttar Pradesh state, investigated for corruption.
She was accused of corruption in plans to build a shopping complex next to the Taj Mahal in the northern city of Agra.
Ms Mayawati, an icon to millions of low-caste Dalits, has always denied any knowledge of the project, which was abandoned after a public outcry.
Correspondents say Monday's order will be a big boost for Ms Mayawati.
The order by the Allahabad high court has been welcomed by her Bahujan Samaj Party.
"The petitions were filed to malign Ms Mayawati," her party member Satish Mishra told reporters after the order.
The petitioners have said they will appeal in the Supreme Court.
The project to develop the area around the Taj Mahal - known as the "Taj corridor project" - was announced in 2002 when Ms Mayawati was the state chief minister.
Her government released 170m rupees ($3.17m; £1.97m) for the project and work started on it.
In 2003, India's Supreme Court ordered the Central Bureau of Investigation [CBI] to probe the project after reports that it contravened environment protection laws.
In 2007, the CBI stopped its probe against Ms Mayawati because the state governor refused to sanction her prosecution.
A special trial court then ruled that she could not be tried in the absence of sanction from the state governor.
The ruling was challenged in the Allahabad high court.
Ms Mayawati is one of India's richest politicians with assets valued at $22.35m (£14.2m).
From her humble beginnings of a government school teacher, she has had a meteoric rise over the last three decades.
Until recently, she was chief minister of Uttar Pradesh, one of India's least-developed states. She is now an MP from the Rajya Sabha - the upper house of parliament.
Ms Mayawati is famous for building statues of herself and other Dalit icons and a large numbers of statues commissioned by her can be seen in Lucknow and elsewhere in Uttar Pradesh.