UK's William Hague in India to boost relations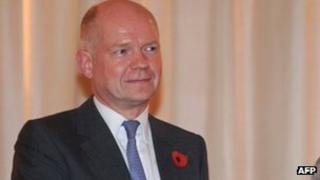 The British Foreign Secretary, William Hague, is holding talks in India with the aim to strengthen bilateral trade and nuclear co-operation.
Mr Hague is meeting the newly-appointed Indian External Affairs Minister Salman Khurshid.
The visit is part of a series of high-profile British visits to India coming after the home secretary and the Mayor of London, Boris Johnson.
India is the largest market for British goods outside the European Union.
Indian investment in the UK has also been increasing in recent years and Tata is the biggest manufacturing employer in the UK.
In an interview with the BBC, Mr Hague said relations with India had grown substantially over the past decade and the aim was to double trade between the two countries by 2015.
The BBC's Sanjoy Majumder in Delhi, however, says that foreign policy cooperation is the main focus of the talks between Mr Hague and Mr Khurshid, specially the situation in South Asia and the Middle East, particularly Syria.
Security and counter-terrorism cooperation is another key area of discussion, specially cyber security which is becoming a major area of concern for both governments, our correspondent adds.
Mr Hague said Britain was expanding its diplomatic presence in India with the opening of a new deputy high commission in the southern city of Hyderabad and later, Chandigarh.
The move will make the UK the largest diplomatic mission in India.
Education is another area of focus between the two countries - Britain handed out 30,000 student visas to Indian applicants last year.