India textbook on 'lying, cheating meat-eaters' withdrawn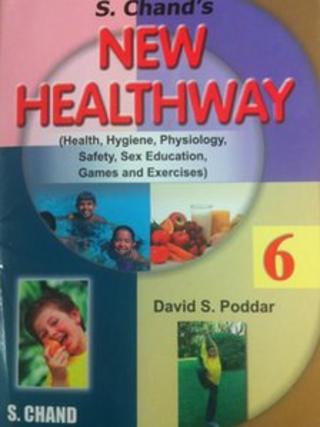 A controversial Indian school textbook which made derogatory remarks about meat-eaters has been withdrawn.
New Healthway, a book on hygiene and health aimed at 11 and 12 year-olds, said meat-eaters "easily cheat, lie, forget promises and commit sex crimes".
Its publisher, S Chand Group, said they were "shocked and saddened" by the incident and "it is highly regretted and we are emphatically apologetic".
The book would be referred to the author, it added.
"The strongest argument that meat is not essential food is the fact that the Creator of this Universe did not include meat in the original diet for Adam and Eve. He gave them fruits, nuts and vegetables," read a chapter in the book entitled Do We Need Flesh Food?
The chapter detailed the "benefits" of a vegetarian diet and went on to list "some of the characteristics" found among non-vegetarians.
"They easily cheat, tell lies, forget promises, they are dishonest and tell bad words, steal, fight and turn to violence and commit sex crimes," it said.
The chapter, full of factual inaccuracies, referred to Eskimos (Inuit) as "lazy, sluggish and short-lived", because they lived on "a diet largely of meat".
It added: "The Arabs who helped in constructing the Suez Canal lived on wheat and dates and were superior to the beef-fed Englishmen engaged in the same work."
In a press release, the S Chand Group said the book was not a part of any curriculum or syllabus, but it was a part of "an extended learning series, which may be used by a school or students at their discretion".
It said a total of only 1,384 copies of the title were sold last year and only 70 copies were sold this year.
The publisher said it had "no intention whatsoever to hurt the sentiments of any individual or group" and that the title was being discontinued "with immediate effect".