Ponty Chadha: The 'strange' life of slain Indian tycoon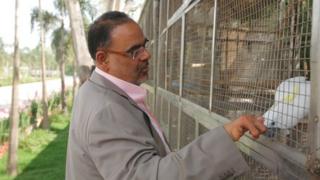 One of India's most controversial tycoons Ponty Chadha was killed in a shootout with his brother at the weekend. Shantanu Guha Ray profiles the man who ran a vast business empire, estimated at $10bn (£6.2bn).
The death of Gurdeep Singh 'Ponty' Chadha, one of India's most powerful businessmen, remains mired in mystery.
The 55-year-old drinks and property baron and his younger brother, Hardeep, were killed in a farmhouse on the outskirts of the capital, Delhi, following a property dispute during the weekend.
Exact details of the incident on Saturday are still unclear.
According to one version, Hardeep shot his brother, leading to an exchange of gunfire between two sides. The dispute apparently was over the ownership of the sprawling farmhouse, reports said.
The brothers were apparently at loggerheads over their family business - estimated at around $10bn and spread over four states - after the death of their father Kulwant Singh Chadha last year. They had interests in real estate, shopping malls, sugar mills and film production.
A fortnight ago, Ponty Chadha, usually guarded by 36 armed guards, had met Delhi police chief Neeraj Kumar and sought increased protection. He had told Mr Kumar that he feared for his life.
'Mysterious tycoon'
The businessman did not find time to submit a mandatory written request to the police giving details of people who posed a threat to his life.
However, Gaurang Kanth, a lawyer for Hardeep Chadha, said he was encouraged by his client to file a complaint with the police against his elder brother.
"It is a strange death for a mysterious tycoon," said Gopal K Pillai, India's former home secretary.
After an accident while flying a kite which got entangled in a high voltage electricity line and left him partially handicapped (he lost one arm and two fingers of his other hand), Mr Chadha, a school drop-out, began his life in business by selling snacks outside an alcoholic drinks stall along with his father.
Later, his father bought a drinks stall and the father-son team began expanding the family's alcohol business.
His fortunes saw a dizzy rise in the last five years, as he went on to control 80% of the alcoholic drinks trade in Uttar Pradesh, India's most populous state, and expanded into other businesses.
The drinks baron, known for his proximity to powerful politicians, was aggressive in his dealings.
In 2009, the Indian government received complaints that Mr Chadha, along with exiled Russian oligarch Boris Berezovsky, was trying to lease over 700,000 hectares (1,729 acres) of land in Ethiopia for farming with labour from Punjab.
The deal fell through.
But a determined Mr Chadha recently concluded the deal and reportedly acquired a little over 800,000 hectares.
His influence in Uttar Pradesh, where he had a monopoly on the drinks trade, was well known.
He courted political leaders, specially Mayawati, the state's powerful former chief minister.
This, many believe, helped him buy several state-owned sugar mills at deeply discounted prices.
Mr Chadha's Wave Group also held a government contract to provide mid-day meals to millions of poor school children.
"He offered milk to the children and liquor to their parents. He had the power, the connections and hence got contracts for both," said Ashish Nandy, a top political psychologist.
Allegations that he purchased influence dogged Mr Chadha, but the charges were never proved.
Earlier this year, a massive raid by tax inspectors at his offices and residences yielded nothing.
Instead, SS Rana, a senior tax official who ordered the 25-location raid across Delhi and Uttar Pradesh, was removed from the position.
"Mr Chadha's enormous money power - mostly from his liquor business - helped him buy political clout," said Prakash Singh, former chief of India's Border Security Force who also commanded the Uttar Pradesh state police.
"When Mayawati and her Bahujan Samaj Party lost power in Uttar Pradesh, he switched allegiance to the new Chief Minister, Akhilesh Singh Yadav, of the Samajwadi Party and bought peace."
'Media neglect'
Aware that his drinks business drew more flak than praise, the tycoon tried hard to acquire a larger-than-life image.
His Wave Group started financing and distributing Bollywood movies, got into the property business and acquired franchises of two teams of a hockey tournament modelled on the lines of the highly successful Indian Premier League (IPL) cricket tournament.
There were plans for a foray into India's thriving poultry market with a four-acre plant close to Delhi.
He also ran a school for disabled children in the suburbs of Delhi and restored temples (gurdwaras) of his Sikh religion.
At his expansive farmhouse, Mr Chadha would take guests for a ride in his golf carts. He would offer them jasmine tea, imported Huntley and Palmer biscuits, and lament how he was a victim of "India's political system and media neglect".
"There are other liquor barons who have wasted millions of dollars in their failed businesses and are now on the verge of selling their family assets, but they have a better image than me," he told me in May 2012 in a rare interview.
During the interview, he made it very clear that he hated being called a "liquor king".
"No one wants to handle liquor in my family. I have no option but to push other businesses. It is the most challenging phase of my life," he had then said.
Earlier this year, Mr Chadha started promoting his son, Manpreet, in the family business. The latter would meet investors and attend business meetings around the world.
The move was seen as an image building exercise for the group mired in controversy.
"He is the face, he is the future. He does everything. I rarely go out of my farmhouse," Mr Chadha had said of his son.
Dressed in an Armani suit, Mr Chadha had then stepped out of his living room to show his collection of exotic cockatoos and macaws in a wired enclosure that lay close to his collection of Bentley and Ferrari luxury cars.
Nearby, a gigantic statue of the Hindu monkey god, Hanuman, stood in mute silence.
Mr Chadha had installed it some years ago. Like many Indian families, he also believed the mighty monkey deity, worshipped as a symbol of physical strength, perseverance and devotion, would protect the family from any crisis.
But the protection could not help him on Saturday, nor could Mr Chadha's 36-strong security cover.
Shantanu Guha Ray is a senior Delhi-based journalist