Indian capital Delhi bans plastic bags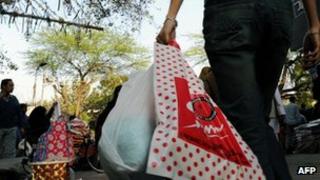 A blanket ban has been imposed on the sale, storage and use of plastic bags in the Indian capital, Delhi.
The penalty for violation of the law is a fine of up to 100,000 rupees ($1,807; £1,133) or five years in jail.
The government says the bags are a "grave threat to the environment if not managed properly" and has carried out awareness campaigns in the city.
A previous effort in 2009 to introduce a partial ban in Delhi did not make much of an impact.
Although shops in many areas have moved to bags made from paper and other materials, authorities say millions of plastic bags are still used in Delhi every week.
Environmentalists say plastic bags block the drains and sewage system, and pose a threat to the health of people and animals.
A Delhi government official said they would now be encouraging people to use re-usable bags.
Authorities say plastic bags can still be used for bio-medical waste disposal.