India holds Olympics vote despite IOC suspension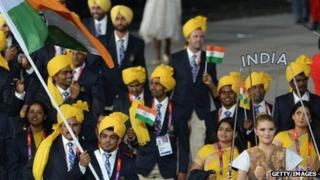 The Indian Olympic Association (IOA) has gone ahead with controversial elections in which officials accused of corruption were appointed.
The IOA said Abhay Singh Chautala was elected unopposed as president and Lalit Bhanot as secretary-general in the poll late on Wednesday.
On Tuesday, the International Olympic Committee suspended the IOA ahead of the elections, which it declared void.
There has been outrage in India, with some calling it an "Olympian shame".
The ban prevents athletes competing for India at future Olympics. India won six medals at London 2012.
"The elections were held in accordance with a court order," Mr Bhanot said after the polls.
"I offer to resign in case I'm pronounced guilty in an ongoing case [of corruption relating to the 2010 Commonwealth Games] against me," he added.
Lalit Bhanot spent 11 months in custody last year on corruption charges linked to the event before he was released on bail.
Abhay Singh Chautala, the IOA's new president, has close links to former incumbent Suresh Kalmadi, who is also on bail over similar charges.
Reacting to the elections, IOC spokesman Mark Adams said they meant nothing.
"Those elections are null and void, they won't count," the Associated Press quoted Mr Adams saying in Lausanne, Switzerland.
"They can go ahead with them but they won't have any validity. We have to regain our confidence that the IOA is acting independent of the government and that the government isn't interfering. At the moment, the IOC is not satisfied that this is the case," he said.
Announcing the ban on Tuesday, IOC said the election process had been "tarnished since the start".