Indian photo wins Wiki Loves Monuments online contest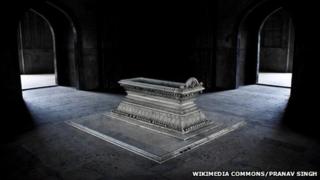 A picture from India has been chosen from more than 350,000 to win in what the Guinness World Records says is the world's largest online photo contest.
A picture of Safdarjang's Tomb in Delhi by Pranav Singh won the Wikimedia Loves Monuments 2012 competition.
Another Indian, Narender Kumar, won sixth place in the contest with his photograph of the Taj Mahal.
More than 15,000 people from 33 countries sent in their photographs of listed monuments.
Unfortunately Mr Singh did not "leave his contact details behind and will, therefore, not win a prize", the contest website said.
"The strong light contrast between the lighted tomb and the darkness of the room emphasises the monument, and gives it a dramatic component," said the jury about Mr Singh's photograph of Safdarjang's Tomb.
"All in all, a nicely framed and executed picture that seems to speak of the significance of this tomb."
The iconic Taj Mahal was one of the most photographed images sent to the contest, but Mr Kumar's entry "seems to wake up out of the mist" which the jurors thought made it stand out from the others.
Mr Kumar told The Hindu newspaper that most photos of the Taj are "touristy" but for him "luckily there was foggy weather".
The Wiki Loves Monuments contest beat its own record from last year to become the world's largest photo contest this time round.
This is the third time the photography contest has been held and the first time that Indians have participated.