Assam assault case: Amarjyoti Kalita among 11 jailed by India court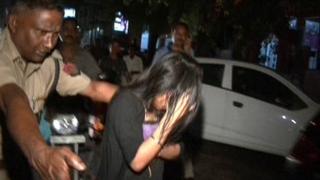 The High Court in the eastern Indian state of Assam has convicted 11 people for the assault of a teenage girl in a busy street in Guwahati city in July.
All those convicted, including the local actor Amarjyoti Kalita, were sentenced to three years imprisonment.
A local television journalist who filmed the girl's ordeal was acquitted along with three others.
There was outrage after footage emerged showing men passing the girl between them, trying to remove her top.
The editor of the television channel which first aired the video of the assault resigned over the broadcast.
The incident took place on 9 July when the girl, who was attending a birthday party, was evicted from a bar in the centre of Guwahati along with several men, who then attacked her.
Kalita, the main accused in the case, played a policeman in a recent Assamese television serial.
Assam has a high rate of crime against women - 36.9 per 100,000 a year against the national average of 18.9.