India MPs in parliament uproar over Walmart lobbying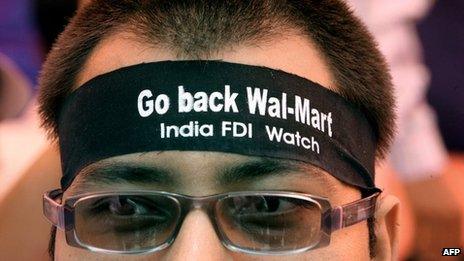 Angry opposition MPs have protested in India's parliament after reports that the global retail giant Walmart has been lobbying with the US lawmakers to facilitate its entry into India.
The firm disclosed that it spent $25m (£16m) on lobbying, including on issues related to "enhanced market access for investment in India".
The upper house has been adjourned twice on the issue since the morning.
Last week, MPs voted to open the retail sector to foreign competition.
On Monday, the main opposition Bharatiya Janata Party (BJP) demanded a probe into reports about Walmart's lobbying.
Senior party leader Ravi Shankar Prasad said fears were expressed earlier too about Walmart spending huge money to lobby for entering the Indian market, which has now been proved true, reports the Press Trust of India.
"Walmart has in its lobbying disclosure report to the US Senate said it has spent $25m on lobbying and $3 million have been spent in 2012 itself for entering the Indian market," PTI quoted him as saying.
"Lobbying is illegal in India. Lobbying is a kind of bribe. If Walmart has said that hundreds of crores (tens of millions) of rupees were spent in India, then it is a kind of bribe.
"Government should tell who was given this bribe. This raises a question mark on the implementation of FDI in retail," Mr Prasad said.
Several other opposition MPs also called for an "independent inquiry" into reports about Walmart's lobbying.
The decision by India's government to allow 51% foreign direct investment (FDI) was approved by the Lok Sabha (lower house) on 5 December and the Rajya Sabha (upper house) on 7 December.
Opposition parties, led by the Bharatiya Janata Party (BJP), oppose the government's decision.
The move has also been strongly opposed by tens of thousands of small businesses and corner shops who fear they would be put out of business.
But the government and business leaders argue that it will boost the economy and transform the way Indians shop.
The win in the parliament is expected to help the government push ahead with further economic reforms to bolster India's slowing economy.
Related Internet Links
The BBC is not responsible for the content of external sites.