India couple marry on 'lucky' date 12/12/12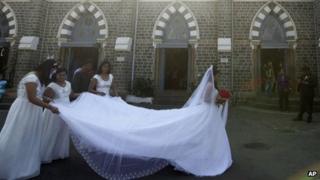 An Indian couple has chosen 12/12/12 - the last date of the century when the day, month and year match - to have their church wedding in Mumbai city.
Brandon Pereira and Emilia D'Silva were engaged on 10/10/10 and registered their marriage on 11/11/11.
Ms D'Silva told Agence France Presse (AFP) news agency that she believed it to be lucky day which "fitted with our plan" for a big wedding.
It will be 89 years before the next unusual date of 01/01/2101.
The bride felt that Wednesday's rare alignment of 12s was the perfect day to walk down the aisle, especially after celebrating previously on two significant dates, AFP reported.
The wedding took place at 12 midday at Mount Mary Church in a city suburb.
The couple dated for nearly 10 years before Ms D'Silva accepted a marriage proposal from Mr Pereira, who is an engineer in Bahrain where the couple now live.
"I hope all our days are as special," Ms D'Silva said. "We really don't know how this worked out, but it did."