Gujarat polls: India state ends voting in first phase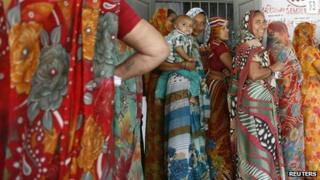 Voting has ended in the first phase of polls in the western Indian state of Gujarat where a Hindu nationalist leader is seeking re-election.
The polls are seen as a referendum on the popularity of Narendra Modi, who has ruled the state since October 2001.
Mr Modi has been tipped as a potential future prime minister, partly because of his record of turning Gujarat into one of India's economic powerhouses.
Nearly 40 million people are eligible to vote in 182 assembly constituencies.
Votes were held in almost half the seats - 87 - during the first phase of polls on Thursday.
An Election Commission official said voter turnout was nearly 67%, the Press Trust of India reported.
The second phase will be held on 17 December, with counting set for 20 December.
The Hindu nationalist Bharatiya Janata Party (BJP), which has governed the state for 15 years, is facing a Congress party challenge in the election.
"A vote is foundation of a strong and vibrant democracy," Chief Minister Modi wrote on his Twitter account.
Mr Modi is also seen as India's most divisive politician - loved and loathed in equal measure.
He was chief minister of the state during the 2002 religious riots when more than 1,000 people, mostly Muslims, were killed.
He was accused of doing little to stop the riots and in subsequent years the US denied him visas and the UK cut off all ties.
In October the UK's high commissioner in India, James Bevan, met Mr Modi, ending a 10-year boycott of the controversial leader.