India Telangana state decision expected 'soon'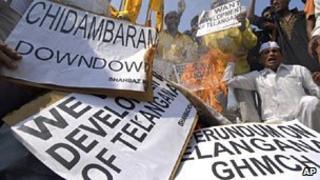 India's government has said it will take a decision over a new state in the Telangana region of southern Andhra Pradesh state within a month.
The state has seen protests for and against the proposal in recent years.
With a population of 40 million, the proposed state comprises of 10 of Andhra Pradesh's 23 districts including Hyderabad, India's sixth biggest city.
Backers of the 50-year-old campaign for statehood say that the area has been neglected by the central government.
Home Minister Sushil Kumar Shinde said the government had heard the views of eight political parties on the issue at a meeting in Delhi.
"I have heard carefully from all the parties. I will brief the government on the outcome of the meeting and within one month we will come out with a result. Within one month, there will be a decision," Mr Shinde told reporters.
Deep divisions
He appealed to people in Andhra Pradesh to remain peaceful and said he understood that they had been facing problems because of protests over the demand for a new state.
"I appeal to the youth to remain peaceful. There will be a result. The government will take a decision. It is taking decision and it will be a good decision," Mr Shinde said.
Opponents of the move are unhappy that Hyderabad, home to many major information technology and pharmaceutical companies, could become Telangana's new capital.
The final decision on a new state lies with the Indian parliament. But the state assembly must also pass a resolution approving its creation.
Deep divisions have emerged over the Telangana issue in the past three years.
In December 2009, India's Congress party-led government promised that the new state would be formed, but later said more talks were needed.