Viewpoints: What next after outcry over Delhi rape?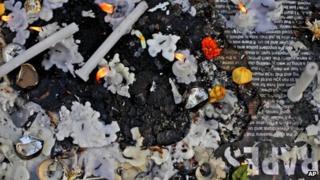 After the outcry over the brutal gang rape and murder of a 23-year-old woman in the Indian capital Delhi, Indian commentators give us their opinions on what might follow in the effort to combat rape and violence against women in India.
V Suresh, human rights lawyer
Prosecution and punishment is only a small part of the solution. It comes after the crime. The challenge is to prevent sexual assaults in the first place.
How do you change mindsets at a societal level, that too of 1.2 billion people?
Gender sensitisation programmes as they exist today have by and large been tokenistic, they have lacked creativity and have had little impact on changing gendered mindsets.
An entirely new programme aimed at changing attitudes and mindsets, social perspectives and institutional cultures should be designed at the mass level and rolled out, from primary schools through colleges to work spaces.
Every year, village assemblies should be organised on 8 March, International Women's Day, as an open house where women could be encouraged to speak about issues of violence and sexual assault inside families and in communities.
Women should be invited every year to speak in special sessions in the country's legislatures on issues related to women's discrimination and equality and the way state policies and laws impact on women's experience of inclusion, equity, justice and dignity.
One of the most shameful realities in India is the state-organised liquor business, which does much to fuel violence against women.
The rationale that liquor revenues raise valuable money to invest in social welfare programmes is akin to dealing with "blood money" earned by causing immense family miseries and tragedies.
State governments should immediately stop engaging in liquor business, introduce prohibition and ensure a total stop to illicit liquor.
It is a long haul and a difficult journey for India, but changing the way Indian society treats women is in the end the only safeguard preventing violence against women.
Urvashi Butalia, feminist writer and publisher
One of the remarkable things about the recent incident in Delhi and the subsequent protests has been the media's restrained and non sensational reporting.
This marks a break from the almost hysterical tone that has characterised reports on previous such cases.
Whether it is television, or radio, or newspapers, there's been a tremendous amount of respect, and restraint - notwithstanding the calls for punishments such as chemical castration.
The victim's name has not been revealed (the law requires this but in the past it has been flouted), the parents' privacy has been respected, protests have been covered with empathy, and there have been excellent articles in the press.
The media has played an important role in this instance in channelling popular anger at the government.
It's hard to say whether this change will last but at least it has been shown that it is not always necessary for the media to be sensationalist.
Will this also lead to some kind of change in the sort of representations of women that we see on television?
Again, difficult to say - television serials do make the mandatory nod to social issues, include powerful women, and discuss things like child marriage, divorce or abortion.
But they remain focused on upper class and rich India, the poor never figure, minorities are absent, dark people too, and caste as an issue is unheard of.
Perhaps women's issues will get reflected more seriously, but unless media become inclusive in a much more real way, the chances of any real change may be slim. Nevertheless, I think it's important to note that there has been an attempt to take what were seen as "women's issues" seriously, and that's at least a beginning.
Priya Hingorani, Supreme Court advocate
Amongst the key changes required in the law is harsher punishment for rape, including an increase in the maximum prison term, and in the case of heinous crimes perhaps even the death penalty.
The definition of rape should be broadened and amendments are required to the Juvenile Justice Act - one of the accused is reportedly a minor.
However, apart from legal reform, it is imperative that victims are assured of effective implementation of the law.
Fast track courts are needed, as is transparency and auditing of the judiciary.
Police reforms are required - including sensitisation of the police and increasing the number of women police officers - as well as a greater use of technology to aid the investigative process.
A long term solution to the current malaise requires a fundamental change in the societal attitude towards women in India.
The "two finger" test, which is not a law but a practice adopted by doctors, is an excellent case in point.
While education may over time promote gender equality and help change mindsets, in my view, legal literacy is the need of the hour.
If women are aware of their rights, be it with respect to law enforcement officers or to medical officers, they are less likely to be vulnerable to unscrupulous elements within the system.
Rupa Subramanya, economist and author
To bring down violence against women and other violent crimes in general is to focus on the much needed reforms to a creaky criminal justice system.
The abysmally low conviction rate for rape needs to go up through a legal system that takes such crimes seriously and prosecutes them vigorously under the existing laws of the land.
What we don't need is political symbolism or quick fixes, neither of which tackle the deeper roots of the problem.
In the former category would be suggestions like a proposed new tough anti-rape law in honour of the young woman in Delhi who just passed away.
While well-intentioned, it's unleashed a debate whether her name should or shouldn't be released that distracts from the deeper question of fixing the system.
In the second category, we must avoid well-meaning and misguided proposals to ratchet up the penalty to capital punishment or introduce other grisly or barbaric punishments such as chemical castrations.
Apart from whatever emotional satisfactions such harsh punishments may or may not bring to the families of the victims, there's no compelling evidence where these things have been tried in other countries, they've reduced the incidence of rape or other violent crime.
Let's stay focused and fix a dysfunctional criminal justice system.
Atul Sangar of BBC Hindi assesses conservative Indian opinion
Amidst the public outcry over the brutal gang rape in Delhi, several voices have struck a discordant note.
A few, like Congress MP Abhijeet Mukherjee, who is the son of Indian President Pranab Mukherjee, called the protests by students in the heart of the national capital "fashionable" and termed the protesters "dented and painted" women chasing their two minutes of fame. He later withdrew his comments after widespread criticism.
Similarly, one of the male-dominated village councils in the north Indian state of Haryana said that authorities should not get carried away by emotions in the wake of public protests and demands of the death penalty for rapists.
Recommendations from conservative sections of society to combat rape range from women wearing traditional clothes to their avoiding venturing out alone at night.
Last year, a senior Haryana government official objected to women employees coming to the office attired in anything except salwar kameez (loose tunic and trousers) or a sari.
Despite the widespread solidarity with the woman in this case, it is pertinent to bear in mind that conservative opinion holds sway in wide swathes of the Indian hinterland.
Such a mindset may never approve of the brutality of this incident, but would still resent equal rights for, and the assertiveness displayed by, the modern, independent and aware urban Indian woman.
Uma Subramanian, social worker
Our collective failure to speak out, to act against men who rape, has led once again to tragedy, this time in Delhi. Six men raped the victim, beat her and threw her away, thinking they could do so with impunity.
But I believe this case has grabbed national attention not only because of the brutality but also because the girl was "spotless" according to the moral brigade of India.
She was a student, wearing Indian dress, it was 9:30 pm (not so late), she went to a movie with a friend and she was returning home. She ticked all the boxes of the ideal Indian woman.
I wonder, would the sense of national tragedy be the same if the girl were a model or a dancer, or wearing a short dress when she was picked up by the bus joyriders, if her male companion were a boyfriend, or if they were returning from a nightclub? Would the brutality have been any less?
Don't we all have biases against women who are "modern" in India? We ignore women who are raped in villages. We turn a blind eye to the thousands of Dalit women who are raped by upper caste men.
Post-globalisation, Indian women, especially in cities, have broken a lot of traditional barriers.
However, the majority of our men both in rural and urban areas still have a traditional mindset in many respects and have not been able to cope with the new avatar of the modern Indian woman.
But for the first time, there is conversation about teaching boys to respect women, to control their urges. Bollywood, the media and our repressive society have exaggerated the social stigma attached to reporting an attack and this also needs to change.
We need collectively to work to change both the legal and cultural frameworks of this country simultaneously and justice needs to be delivered to victims in a timely manner. Each one of us is responsible for not speaking out.