India woman Sunmeet Kaur Sawhney wins Millionaire show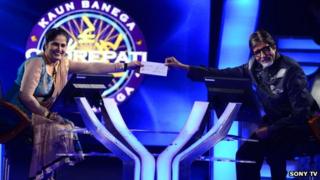 A housewife from the city of Mumbai has become the first woman to win India's version of Who Wants to be a Millionaire.
Sunmeet Kaur Sawhney, 37, won 50m rupees ($1m; £550,000) on the show, that will be broadcast on 12 January.
"My mind went blank when I won the top prize," Ms Sawhney told the BBC.
The popular television show, known as Kaun Banega Crorepathi? (Who Wants to be a Millionaire?) is hosted by top Bollywood actor Amitabh Bachchan.
Ms Sawhney gave credit for the win to her two daughters who encouraged her to go on the programme.
"My girls told me to do my studies and then go and sit with Mr Bachchan."
Ms Sawhney has only studied until high school and did not go to college. But she later worked informally as a private tutor and is an avid reader.
"After answering the last question, I looked at Mr Bachchan's face. He was looking sad and I thought... here you go baby, you've lost it," said Ms Sawhney.
"When he announced 'you have won', I went blank," she said.
Ms Sawhney said she was "bedridden for four years" because of an illness and that her husband had spent all his savings on her treatment.
In 2011 the show had its first ever winner of the top prize when Sushil Kumar from the state of Bihar won $1m after answering 13 questions correctly.