Maoists accused of planting explosives inside dead soldier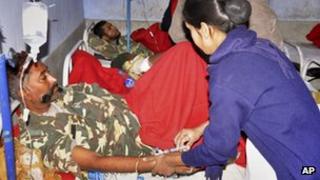 Maoist rebels planted an explosive device inside the body of a paramilitary policeman who was killed during clashes in the eastern Indian state of Jharkhand, police say.
Police say the device was found during an autopsy on Thursday - the Maoists denied planting any explosives.
But police say they fear four other corpses could also be booby-trapped.
They say that it is the first time that Maoists have placed explosives inside the body of a dead soldier.
Maoist rebels are fighting for a Maoist state for tribal people and the rural poor in the north, east and centre of India.
'Metallic object'
Twelve paramilitary police from the Indian Central Reserve Police Force were killed in Monday's clash and seven bodies were recovered immediately.
But security forces were unable to recover five other bodies until later, and it was one of those that police say was discovered to have explosives inside it. They have warned that the other four bodies may also contain devices.
When doctors were about to perform an autopsy they "found the stomach of a constable's body stitched", police chief Gauri Shankar Rath told the BBC.
He said that an x-ray conducted later "revealed the presence of a metallic object with wires attached to it".
The rebels have previously placed explosives near the bodies of killed police personnel so that they could inflict more damage during recovery operations, but this would be the first time they have surgically put such bombs inside dead bodies, the BBC's Salman Ravi says.
However a Maoist spokesman told the BBC that explosives were only "wired around the perimeter of the dead bodies" and not inside them.
At least nine soldiers and policemen were also injured in the battle in Latehar district on Monday.
The Maoists control large areas of several Indian states in a "red corridor" stretching from the north-east to central India.
Indian Prime Minister Manmohan Singh has said that they are the country's "greatest internal security challenge".