India court to try Italian marines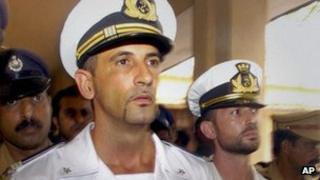 India's Supreme Court has rejected a bid by the Italian government to transfer to Italy the case of two of its marines charged with the murder of two Indian fishermen.
The judges said that the marines would be tried in a special court in the capital, Delhi.
The jailing of the marines has led to a diplomatic row between India and Italy.
The Italians are accused of shooting the fishermen dead last February after allegedly mistaking them for pirates.
At the time the marines - Massimiliano Latorre and Salvatore Girone - were guarding an Italian oil tanker off India's south-western coast.
The men have been out on bail and awaiting their trial in the city of Kochi in the southern state of Kerala.
The Supreme Court removed the case from Kerala, saying the state had no jurisdiction over it.
Italy says that the Indian fishing boat had behaved aggressively and ignored warning shots from their ship, the oil tanker MV Enrica Lexie.
But India says the fishermen, Selestian Valentine and Ajesh Pinky, were unarmed.
Italy wanted the men to be tried in Italy and said the incident took place in international waters.
Last month, the Supreme Court had allowed the marines to go home for Christmas for two weeks. They have since returned to India.