OP Chautala: India politician jailed for corruption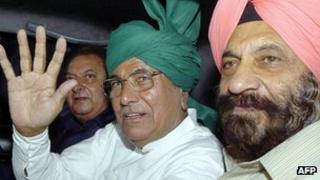 The ex-chief minister of the Indian state of Haryana Om Prakash Chautala and his son Ajay, also a politician, have been sentenced to 10 years in jail for corruption.
Last week Chautala and 54 others were convicted of forging documents to hire 3,206 teachers between 1999 and 2000.
Prosecutors said well-qualified candidates were rejected in favour of those who offered bribes for jobs.
It is estimated that the scam was worth about 1.5bn rupees ($28m; £18m).
Chautala is the leader of the Indian National Lok Dal party and the son of former deputy prime minister Devi Lal.
His supporters and police clashed outside the court complex on Tuesday. Police used batons and fired teargas shells to control thousands of protesters who gathered there.
The scandal only came to light in 2008 when the federal Central Bureau of Investigation (CBI) filed charges against Chautala and the others.