India avalanche kills 38 yaks in Himachal Pradesh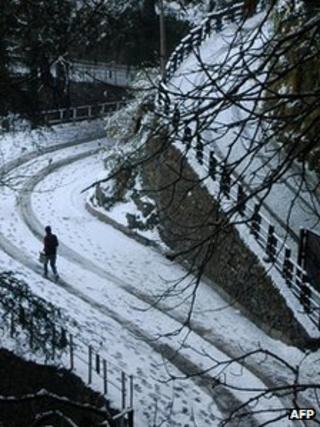 At least 38 yaks in the north Indian state of Himachal Pradesh have been killed by an avalanche.
The yaks were domesticated and owned by locals in the tribal Kinnaur district.
The entire Kinnaur valley is cut off from the rest of the country after heavy snowfall, and there has been no power for the last seven days.
Five people were killed by an avalanche last week. Several tourists are also stuck in the valley and efforts are being made to airlift them to safety.
Officials say it could take another week to clear the snow on the national highway that connects the valley to Shimla, the state capital.
Kinnaur, which borders Tibet, has had unusually heavy snowfall and popular scenic villages like Chitkul and Kalpa are under 2.1m (7ft) of snow, officials say.
Much of Shimla district beyond the state capital has also been cut off for the last week - the area is without electricity as power cables and poles have been uprooted in many places.
Northern India has been in the grip of extreme cold weather and the temperature in parts of Himachal Pradesh dipped below -20C (-4F).