Jaipur Literature Festival begins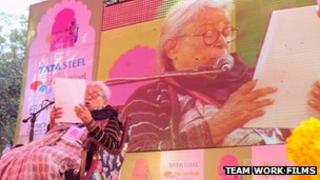 The annual Jaipur Literature Festival has begun in the northern Indian city with authors from around the world participating, organisers say.
Tibetan spiritual leader, the Dalai Lama, is to speak on matters of faith on day one of the festival on Thursday with one of his biographers, Pico Iyer.
The five-day festival will also feature authors Zoe Heller and Howard Jacobson.
Last year, author Sir Salman Rushdie withdrew from the festival after reports of a death threat.
He was also forced to abandon plans to address the gathering by a video link after Muslim groups protesting against his book The Satanic Verses threatened to march on the venue. The author's 1988 book remains banned in India.
Indian author and social activist Mahasweta Devi gave the inauguration speech titled "O to Live Again" on Thursday morning.
She said all humans had the fundamental "right to dream" and described how her "early years proved to be formative for my future work as a writer and activist".
"Jaipur Literature Festival is the same as always, serious literature and then some fun," Press Trust of India quoted one of the organisers, author William Dalrymple, as saying.
"The international list at Jaipur this year is one of unprecedented depth and range, with our most cerebral and intellectually formidable group of writers yet," he added.
The festival is attended by thousands of people every year.
This time, the festival has been criticised by both hardline Muslim and Hindu groups.
Muslim organisations do not want the participation of authors who had read out passages from The Satanic Verses after the cancellation of Sir Salman's visit at the event last year while Hindu organisations have opposed the participation of Pakistani authors in the festival following recent tensions between India and Pakistan over cross-border violations.