India Telangana: Protests as new state decision delayed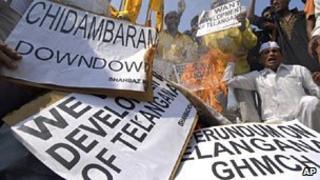 Supporters of a new state in India's Telangana region of Andhra Pradesh state have clashed with police after a decision on the issue was deferred.
Angry protesters broke through police barricades in Hyderabad city on Monday.
The federal government had said in December that it would decide on the proposal within a month.
With a population of 40 million, the proposed state comprises 10 of Andhra Pradesh's 23 districts including Hyderabad, India's sixth biggest city.
Senior ministers of the Congress party-led government said they needed to hold "further consultations" over the issue which would take a "little more time".
"There is no deadline but the talks will be held as soon as possible," federal Health Minister Ghulam Nabi Azad said.
Andhra Pradesh has seen protests for and against the proposal in recent years. There are no reports of casualties in the latest clashes.
Pro-Telangana activists began a 36-hour protest on Sunday to increase pressure on the government to concede to their demand.
Opponents of the move are unhappy that Hyderabad, home to many major information technology and pharmaceutical companies, could become Telangana's new capital.
The final decision on a new state lies with the Indian parliament.
Deep divisions have emerged over the Telangana issue in the past three years.
In December 2009, India's Congress party-led government promised that the new state would be formed, but later said more talks were needed.