Five held for 'honour killings' of Dalit men in Maharashtra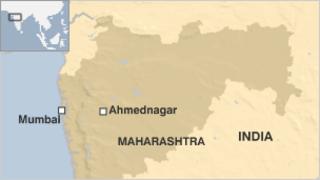 Authorities in India's Maharashtra state have arrested five people over the killing of three men from the low-caste Dalit community on 1 January.
The case is now being treated as an "honour" crime, Ahmednagar district official Sanjeev Kumar told the BBC.
One of the men killed, named as Sachin Dharu, is alleged to have had a relationship with an upper-caste girl, which was opposed by her family.
India's top court has said so-called honour killers should face death.
There are no accurate statistics on the number of such killings across India, but one study estimates that hundreds of people are killed each year for falling in love or marrying against their families' wishes.
"Members of the girl's family summoned Sachin and two of his friends from the school where they were working, and hacked them to death," Mr Kumar said.
The murders happened on 1 January and the bodies were found the next day.
Mr Kumar said the arrests on Thursday were made under the Prevention of Atrocities against Dalits Act.
Despite stringent laws to prevent crimes against the Dalit community, atrocities against them have been on the rise in the state, which has a substantial Dalit population.