India president approves tough rape laws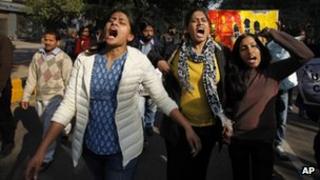 India's president has approved harsher punishment for rapists, including the death penalty, after the gang rape of a student sparked demands for tougher laws.
President Pranab Mukherjee gave his assent on Sunday to new rape laws recommended by the government.
Separately, five men have pleaded not guilty to the rape and murder of the student in a Delhi bus in December.
The brutal gang rape caused outrage across the country.
"The Indian president has given his assent to the ordinance on crime against women. It comes into effect immediately but it will also be tabled before the parliament," a senior officer in the president's office was quoted as saying by the AFP news agency.
Although the laws are now in place as a result of this ordinance, a bill or bills with these amendments must be tabled in parliament within six weeks of the next session beginning - this is on 21 February.
If this bill is not passed, the ordinance lapses and the new laws will no longer be valid.
A government-approved panel which reviewed the country's laws on sex crimes and the cabinet had recommend tougher laws after the gang rape incident.
The panel had called for faster trials and longer sentences for convicted rapists, but not the death penalty.
India imposes the death penalty only in the "rarest of rare cases" - in November, it hanged the only surviving gunman of the 2008 Mumbai terror attacks, the country's first execution in eight years.
The new law, however, provides for death penalty in cases of rape that leads to death or leaves the victim in a "persistent vegetative state".
Under the changes, the minimum sentence for gang rape, rape of a minor, rape by policemen or a person in authority will be doubled to 20 years from 10 and can be extended to life without parole.
Under the existing laws, a rapist faces a term of seven to 10 years.
The new laws also enhance punishment for offences like voyeurism, stalking and acid attacks.
Women's rights activists have, however, criticised the ordinance saying it is inadequate to fight sexual crimes against women.
They also said it was wrong for the government to pass a law without holding a proper debate.
The brutal assault on the 23-year-old woman on 16 December shocked India and sparked a debate about the treatment of women.
Six suspects were arrested for the crime. Five of the accused are on trial at a specially convened fast-track court in Delhi.
If convicted, they could face the death penalty. A sixth suspect, who is 17 years old, is to be tried by a juvenile court.